What makes our care so special? We get results.
Safko Chiropractic is a multidisciplinary treatment center in Midtown Manhattan offering the latest, best chiropractic techniques in New York City to remedy spinal alignment, extremity, musculoskeletal and, sports injuries.
In an age where healthcare today has become a faceless, assembly-line process, Sakfo Chiropractic is committed to treating each chiropractic patient as a person, not a Social Security number, not an insurance card. Treatment at Safko Chiropractic begins with an in-depth conversation. Dr. Safko, a renowned chiropractor in New York, investigates not just pains and physical stress factors, but also the environment in which they arose, then tailors a treatment plan unique to each chiropractic patient.
What makes us different from other healthcare providers: Each plan will draw from a broad toolkit of treatments, applied via Dr. Safko's signature multidisciplinary method of combining certified chiropractic therapies with manual movement therapies, including stretches, ailment-specific exercises and post-isometric relaxation techniques. We begin with a specific benchmark to alleviate your musculoskeletal issues by at least 50% within two weeks.
If we haven't done so, we alter your treatment for another two weeks. If your condition has not improved 80-90% within a month, we stop your regimen, re-evaluate and counsel you on alternative treatments.
Once addressed, you have the option to keep us as your partner in health maintenance and optimization.
We are a no-nonsense healthcare practice, not a spa.
We accept you as a patient with the express purpose of optimizing your well-being.
Contact our New York City chiropractic care facility, make an appointment to stop by our Midtown chiropractic offices and let's talk.
---
Our Staff: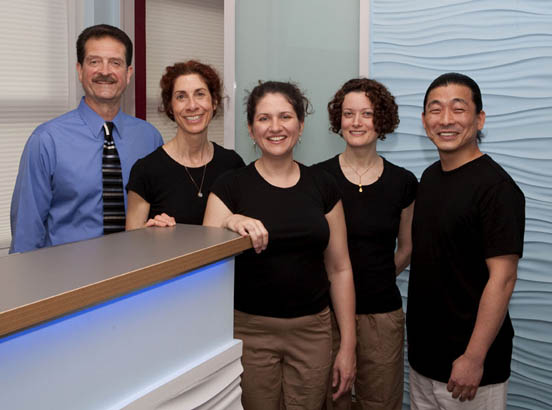 Dr. Ron Safko, Robbin Schwartz, Julie Tudor, Dominique Bousquet, Seong Ki Kim

Ron Safko, D.C.
NYC Chiropractor Dr. Ron Safko has for over 30 years helped busy people in the New York area find lasting relief for their head-to-toe aches and pains. Dr. Safko is one of only three board-certified chiropractic orthopedists in New York City and a certified Active Release (ART®) and Graston Technique® practitioner, with a storied history of success in applying chiropractic orthopedics to a wide range of neuro-muscular conditions.
Dr. Safko employs advanced postural/biomechanical analysis, as well as treatment procedures utilizing traditional manipulation/mobilization techniques. But more than just hands-on therapy, the doctor engages his patients personally with head-to-toe health regimens, including nutritional counseling, joint support products, and exercise and home therapy programs. His expert opinions on diagnoses and treatment have been sought out by cross-disciplinary health professionals, as well as those in the legal and insurance sectors.
But most important to Dr. Safko's practice is a very simple no-nonsense ethos of treating the whole person as a person: "I was told many years ago that, if you sit down with a patient and talk long enough, you'll find out what's wrong with that person, and if you talk longer, you'll find that person will tell you how to help them. . . I have a very simple philosophy, I've lived my entire life by this and tell my kids this, and that is to treat people the way I want to be treated."

---
All of Dr. Safko's expert staff are New York State licensed and have extensive training in Trigger Point Therapy, Myofascial Therapy, Sports Medical and Orthopedic Massage Techniques.
Robbin Schwartz, LMT
– Craniosacral Therapy
– Perinatal Massage
– TMJ Syndrome
– Migraine & Tension Headache Relief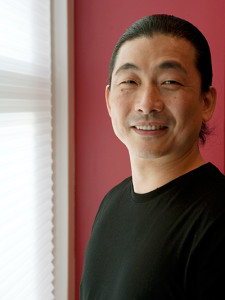 Seong Ki Kim, LMT
– Positioning Release Technique
– Japanese Shiatsu
– Assisted Facilitated Stretching
– Muscle Energy Techniques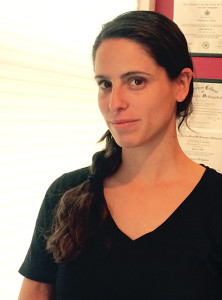 Etti Lee Gans, LMT
– Facial Rejuvenation
– Headache Relief
– Sports Injuries
– Athletic Performance Massage
---
Initial Visit
We begin with a personal consultation to determine the specific circumstances from which your pain stems. Physical stress and trauma can be caused by many factors in your life, not just immediate injuries, and we want to get to know the whole you so we can craft a full head-to-toe therapy regimen for you.
If our expert staff determines that our array of both traditional and cutting-edge techniques can effectively alleviate your physical issues, we next perform an examination to obtain your orthopedic, neurological, muscular, postural, bio-mechanical and gait status. Based on these assessments, we'll tailor a treatment plan to your individual needs, with both short- and long-term goals to improve your musculoskeletal health, including the knowledge and tools for you to maintain it, and prevent it happening again, once we've done our job.
If our assessment leads us to deem a different course of treatment to be better for you, we will refer you to the appropriate health care provider.
Information you should bring to your first visit
If you have already had tests (such as x-rays) regarding your problem, bring them and any other relevant assessments along with you.
Be prepared to discuss:
–When the problem started.
–How it started.
–How long the problem has persisted.
–What circumstances make the problem better or worse.
–What treatments you have tried so far and how well they worked.
–Any other health-related circumstances that might be relevant.
Make your own notes as to questions you might want to ask of us.
If your health insurance company requires a referral before treatment, please obtain one.
Bring your insurance card and know the amount of your deductible and co-pay.
Dowload forms via the 'Patient Forms' link below and have them filled out before
you come to the office.
Payment / Insurance
We accept most major medical insurance plans.
Dr. Safko is an Oxford Insurance provider.
We do not accept Medicare, Worker's Comp or No Fault.
No insurance coverage? Don't rule us out. We are happy to discuss your circumstances and do our best to make your treatment affordable.
---
Still Not Sure If Our Staff Has the Treatment You Need?

Even for our years of success, hundreds of healthy, satisfied patients, you still might not be convinced our treatment regimens will work for you. If, after reading all our information here, you still have questions as to whether our services might be the right course for your health and well-being, don't hesitate to let us know. Please e-mail Dr. Safko your questions and the best time to call you. The doctor will be more than happy to call you and discuss personally how our services might help you get pain-free and get on with your life.
Or call to make an appointment for a free evaluation. Download our forms and complete before coming to your appointment.